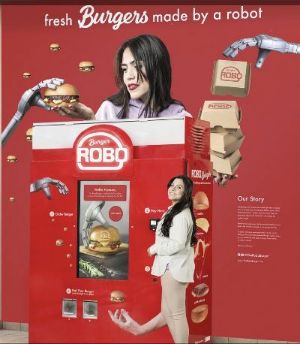 After 17 years of planning, his project breaks new ground in the vending machine world

SOMETIMES IT

takes a whole lot of perseverance and a good deal of patience.
Seventeen years ago Audley Wilson started working in his garage in an attempt to develop a robot that would build burgers. He worked on his project for 14 years, refining his original concept.
In 2019 he believed his project had progressed to a stage that it was feasible. He patented his system and founded RoboBurger. He was not yet ready to introduce his burger-building robot to the world, however. He continued to refine it, brought on partners, and developed a marketing plan.

A world first

Now he has brought his project to life, launching the world's first fully autonomous robotic burger chef nationally.
The logo says it all:

Fresh burgers at the press of a button

.
It is essentially a stand-alone vending machine that can be placed in malls, colleges, offices, factories and military bases across the country.
Chances are you will see one near you soon."RoboBurger gives everyone freshly grilled, delicious burgers while ensuring a safe, contactless experience," he says. "RoboBurger always comes out piping hot and is never pre-cooked and kept warm."

Restaurant in miniature

The robot is essentially a restaurant in miniature. It cooks restaurant-quality freshly grilled burgers from scratch. Soon, Wilson says, it will be heading for airports, malls, colleges, offices, factories and military bases across the country.RoboBurger is described as a self-operating, artificially intelligent, patented kitchen. It is designed to include all the processes of a restaurant at a fraction of the size. It measures 12 square feet and plugs into a regular wall socket. In addition it has a refrigator, an automated griddle and a cleaning system.

Five-step process

The robot uses a five-step cooking process that is similar to that which chefs use in quick-service restaurants. The robotic chef grills the patty, toasts the bun, adds condiments, puts the burger together and—presto!—delivers it piping hot, ready to be eaten. It does all that is about six minutes. The cost? Only $6.99.